"Il Notiziario delle Eolie online" su "The Guardian", giornale inglese. L'inviato Tom Kington ha pubblicato il servizio che segue:
Christmas murder on Italian island Lipari raises clouds of suspicion.
Stabbing of elderly woman was island's first murder in 56 years. Now residents fear that the killer lives among them.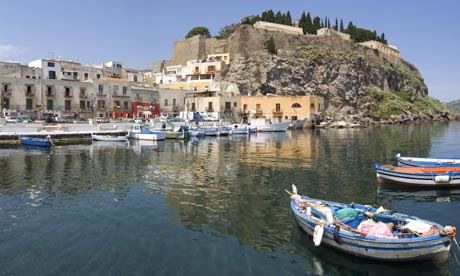 Islanders squeezing into the small church to hear a tribute to their brutally murdered neighbour expected to hear kind words from the rotund priest in flowing purple robes. But what Father Peppino Mirabito gave them was a warning.
"I hope the assassin is handed over to the law as soon as possible," said the priest, flanked at the altar by the police chief and mayor. "We all need to close ranks with the police."
Before him, next to a nativity scene decorated with local oranges, stood the flower-strewn coffin of Eufemia Biviano, the 62-year-old woman who was stabbed to death on Christmas Eve – the first murder victim on the idyllic Mediterranean island of Lipari in 56 years.
Outside the packed church, some of the hundreds of shocked residents who had been unable to find a space inside turned to gaze out across Lipari's bougainvillaea-clad slopes, which tumble down to the black sand beaches and clear waters that draw thousands of tourists every year. Some pointed to Biviano's whitewashed cottage, up a lane on a steep embankment near the church. Washing still swayed on the line behind police crime-scene tape.
Described as a kind, private woman with no enemies, Biviano had worked for years as a hotel cleaner to save money to refurbish the cottage and its detached garage, which had just enough room for her Fiat 500. Police found her there late on Christmas Eve, lying behind the car with her neck punctured by knife wounds.
"This is a happy island and the murder feels like the end of the world to us," said the mayor, Mariano Bruno. "Here people leave their car keys in the ignition and their front doors open."
But all that has changed, according to Biviano's neighbour, Maria Corrieri. "We've locked the doors and I haven't slept since she died," she said.
The island's last murder was in 1955, when a woman was killed and thrown down a well. Since then Lipari's natural beauty has helped it to become a holiday hideaway for rich Italians, just as their imperial Roman ancestors flocked here for the thermal baths.
Part of the eight-island Aeolian chain off the north coast of Sicily, Lipari has better-known neighbours such as the geologically volatile Stromboli and Vulcano, where the surf is warmed by sulphurous bubbles popping up between the pebbles.
Finding fame when the Oscar-winning Il Postino was filmed in the Aeolians, the islands have become a summer haunt for the enormous yachts hosting Russian oligarchs and designers such as Giorgio Armani, Domenico Dolce and Steffano Gabbana, who drop in en route from Capri to Sardinia.
However, Lipari's winter population of 11,000 were wrapping up last week against a cold wind that whipped across the empty port, where two dozing dogs, a man selling squid from a van and a clutch of locals hung around waiting for the next ferry to bring newspapers and provisions from Sicily.
Unmarried with no children, Biviano was seen shopping at the port on Christmas Eve morning, before she headed home to her village of Quattropani on the other side of the island. As the weather closed in, relatives say she turned down invitations to spend Christmas with them on Salina, the neighbouring island that she could see from her cottage.
Later that day her cousin Maria Falanga, who lives nearby, telephoned to offer to accompany Biviano to midnight mass at the very church where her funeral would be held days later. Both cousins were born in the houses in which they still lived and had played together as children. "Her parents passed on years ago and when my mother died in October she was round all the time to help out," said Falanga, a strong-willed woman with a weather-lined face.
But Biviano did not answer the phone that night, prompting Falanga and her husband to call on her. "We searched and saw her garage door was padlocked," she recalled. "Finding the key in the house, we opened the door and saw her Fiat and then her feet."
Colonel Claudio Domizi, the Carabinieri officer heading the investigation, said it was likely the killer had closed the padlock after knifing Biviano.
"We knew it was murder at 1.30am on Christmas Day, when officers turned the body over and saw the wounds," he said. "By the time the next ferry left, we were checking passengers down at the port. It's conceivable the killer is still on the island."
DNA testing of islanders was begun, aiming to find a match with any traces left in the garage. But until results come in – which one police official promised would be "a matter of days" – islanders remain baffled. "She was just a simple, reserved girl who kept to herself," said Bartolo Casella, a sprightly 81-year-old who has lived up the lane from the Biviano house all his life.
Sandwiched between mafia-infiltrated Sicily and Sardinia, where vendetta killings are a tradition, Aeolian islanders lead a relatively peaceful life and have done well out of tourism, following lean postwar years when poor fishermen would venture up to Quattropani from the port to barter fish for vegetables. Mass migration since those days means there are now 36,000 Australians who are either from the islands or descendants of islanders, said local journalist Bartolino Leone.
A spate of burglaries this year – 20 in Quattropani alone – has put Lipari on edge, with a suspicion that the thieves must be familiar faces. "They broke in on 24 August when we were down at the port for the festival of the island's patron saint," said shopkeeper Mariana Iacono. "Only locals would have known everyone was out that day."
The first reaction to Biviano's murder was that she had surprised a burglar. But police were soon dubious, noting that nothing in the house had been touched. "Local kids may be committing burglaries, but would any of them actually murder someone?" said Nadia, 23, a local law student. As police began obtaining saliva samples from neighbours and reportedly checked Biviano's finances, the chilling suspicion grew that she might have been killed by someone she knew well.
On Wednesday night, when Biviano's body was shipped back to Lipari from Sicily, where an autopsy had been performed, 2,000 islanders, many of whom knew her, lined up at the port to pay their respects as her coffin was unloaded from the ferry's cargo deck. On Friday night, 2,000 residents again turned out for a candlelit vigil to recall Biviano and show their support for law and order on Lipari.
On Thursday morning, 500 had been in the church and crowded outside to hear Fr Peppino urge anyone who knew who was behind the "barbarous and ferocious" murder to speak out. "We cry for her death. We ask why?" he said.
Later that day, as the sun slipped behind black clouds and the sea turned to gunmetal, Biviano's neighbour, Maria Corrieri, shivered. "It occurred to me that the murderer was there, beside us, in church today," she said.
Rassegna Stampa. "The Guardian" e "Il Notiziario delle Eolie online"
ultima modifica:
2012-01-03T21:43:25+01:00
da
Reposta per primo quest'articolo